News
03.31.2020
Summary of SBA Loan Programs under the CARES Act
The Coronavirus Aid, Relief, and Economic Security Act (CARES Act) makes important changes to the Small Business Administration (SBA) Economic Impact Disaster Loan (EIDL) program and creates the Paycheck Protection Program (PPP). Both programs provide potential financing options for small businesses impacted by the COVID-19 emergency.
The chart below highlights key differences between the two loan programs. Williams Mullen alerts published Friday, March 27, 2020, describe the EIDL and PPP programs in greater detail. SBA implementing regulations, which are required to be issued within 15 days of the CARES Act becoming law, are expected to provide further details regarding both programs.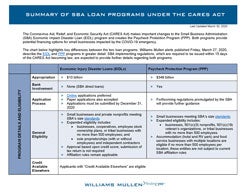 Please note: This alert contains general, condensed summaries of actual legal matters, statutes and opinions for information purposes. It is not meant to be and should not be construed as legal advice. Readers with particular needs on specific issues should retain the services of competent counsel.
Please click here for additional legal updates from Williams Mullen regarding COVID-19.