Submitted by the_admin on
3TWENTY3
323 2nd Street SE
Suite 900
Charlottesville, VA 22902

Telephone:
434.951.5700
Fax:
434.817.0977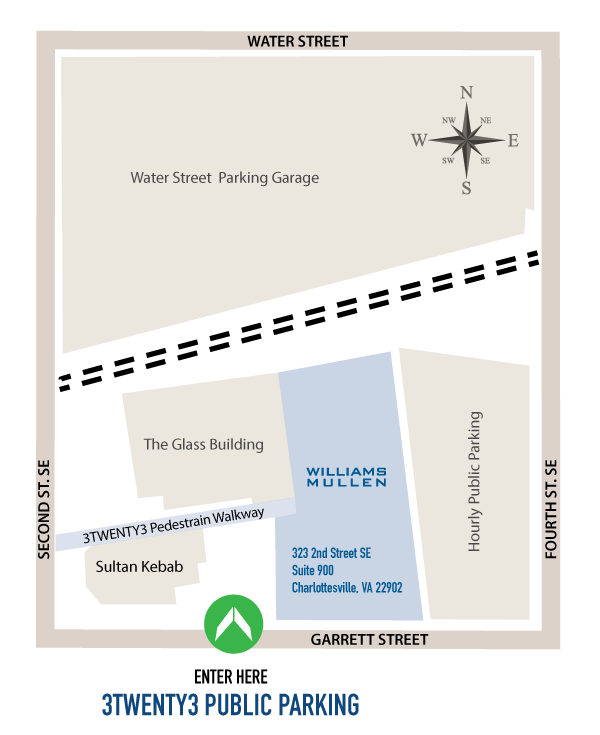 Vehicles: Enter our parking garage from Garrett Street, park on levels 2-4 then take the elevator to the 9th floor - Williams Mullen, Suite 900. Bring your parking ticket and we will validate it. 
Pedestrians: Entrance to the lobby of 323 Second Street SE is a walkway from Second Street SE between Sultan Kebab & The Glass Building. Enter the lobby and take the elevator to the 9th floor - Williams Mullen, Suite 900. 
 
Business Attorneys in Charlottesville, Virginia
Founded in 2000, Williams Mullen's Charlottesville office currently serves clients from our location near the heart of the Downtown Pedestrian Mall.
Our attorneys represent clients throughout the Charlottesville area, Virginia and the United States with respect to corporate law, mergers and acquisitions, real estate and land use, intellectual property, tax planning, dispute resolution and more. We work together with all of our offices to provide business and legal solutions to help our clients achieve their goals.
Related Practices:
Williams Mullen's Community Involvement
One of our firm's defining qualities is our commitment to serving the communities where we live and work. Our attorneys and staff in Charlottesville are actively involved in the community, including through our support and service to numerous local organizations, such as the United Way Thomas Jefferson Area chapter, the Boys & Girls Clubs of Central Virginia, Habitat for Humanity and the Central Virginia Partnership for Economic Development.